The right watch for every wrist – the laco size guide
Many things have to be considered when selecting the perfect watch. Not just the design and functioning, but size affect the way a watch looks on you. We´ll be pleased to help you select your favourite new Laco watch in the size that suits you! However: ultimately, your personal preferences and tastes determine the watch diameter that looks best on you.
print out the pdf and cut out the template
Our size guide allows you to easily check which watch size is best for you. Simply print out the 100% size templates on DIN A4 paper, in a horizontal format. (Use a ruler to check correct formatting of the printout). Cut out the measuring tape or the template, and put it around your wrist!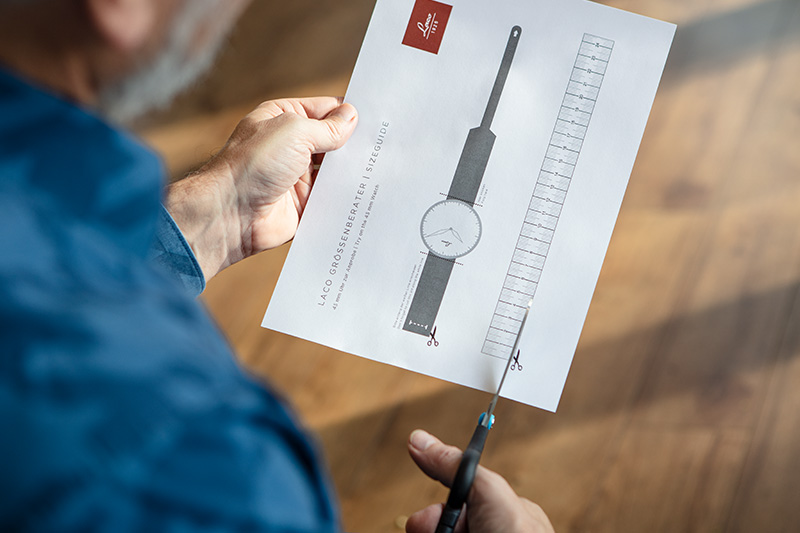 Use the diameter template to get an idea of how the watch will look when it´s actually on your wrist. The diameter is measured without the push piece and crown. These may differ in size according to the model, and would not provide an accurate diameter size. Please note that your new watch will always appear slightly larger than the template due to the housing thickness.
| wrist circumference | watch diameter |
| --- | --- |
| 15 cm / 5.9" | 34 mm - 38 mm |
| 16 cm / 6.3" | 38 mm - 41 mm |
| 17 cm / 6.7" | 39 mm - 42 mm |
| 18 cm / 7.1" | 40 mm - 45 mm |
| 19 cm / 7.5" | 41 mm - 46 mm |
| 20 cm / 7.9" | 42 mm - 48 mm |
| 21 cm / 8.3" | 43 mm - 50 mm |
| 23 cm / 9.1" | 45 mm - 55 mm |