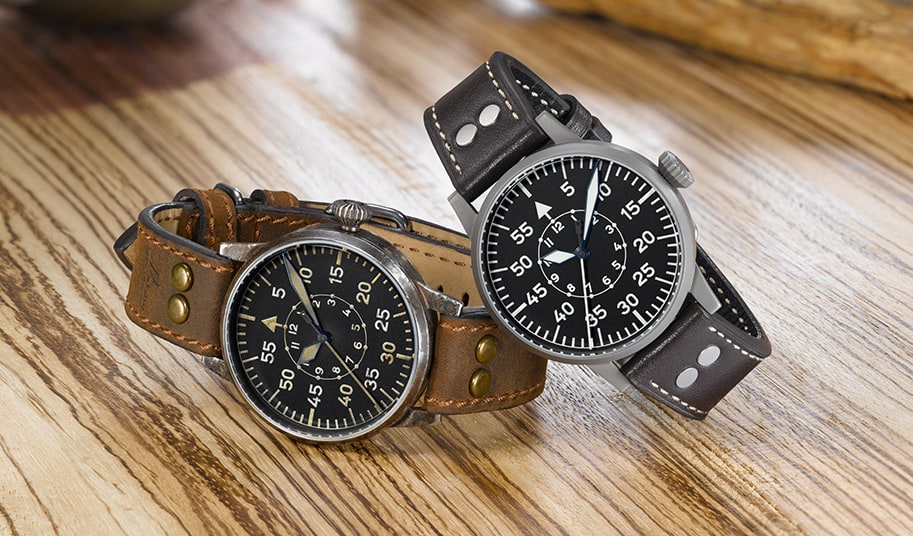 From passion to legend: Pilot watches from Laco.
There are pilot watches. And then there are pilot watches from Laco. As one of a few exclusive companies the workshop in Pforzheim can look back on a long tradition. Whereas in the 1940s a Laco was an indispensable tool in the cockpit, today it is an expression of freedom. With a Laco pilot watch you are not only wearing a precise and robust watch on your wrist, but also a piece of history.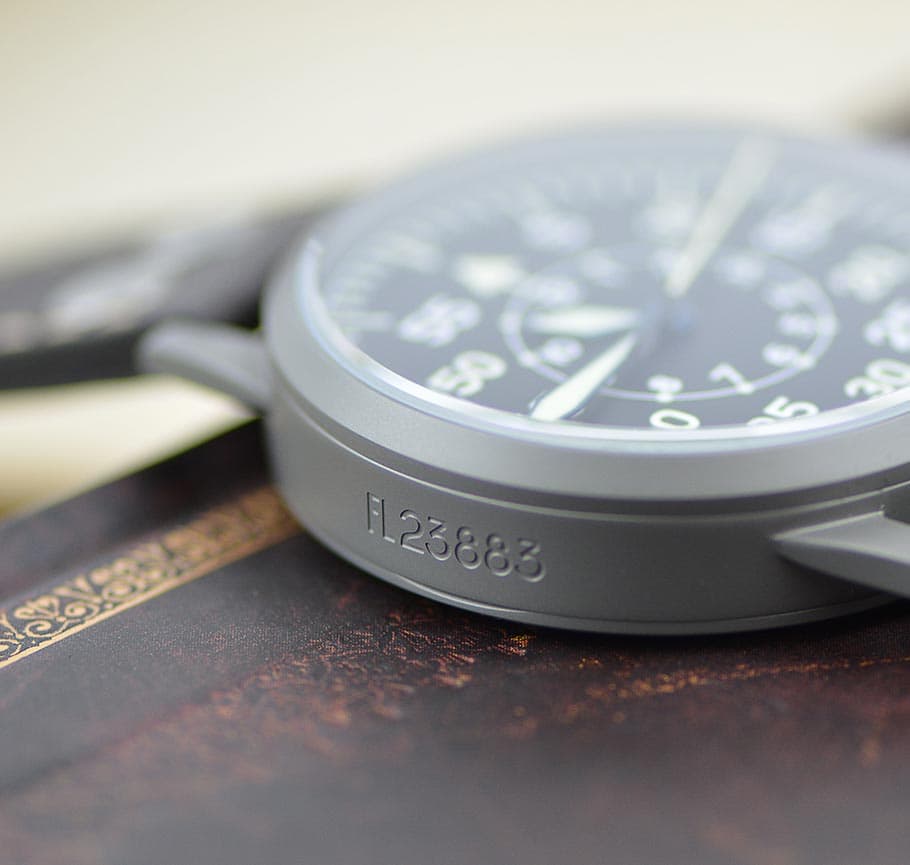 Historic watches, contemporary aesthetics.
Regardless of which Laco pilot watch you choose, all models have one thing in common: a legendary history. In the 1940s only a handful of companies received permission to manufacture aviator watches. One of them was Laco. The detailed requirements laid down for observation watches for the German Air Force were formulated by the Ministry of Aviation under the classification "FL 23883". This number stood for "navigation devices" and could also be seen on each watch on the opposite side of the winder.
Aviator watch – INCOMPARABLE ACCESSORIES ON BOARD.
The observation watches were not worn by the pilots, but by the navigators on board. They used the aviator watch and an octant to determine the exact position of the aircraft. Precision had to be guaranteed at all times, even under extreme conditions. It also had to be easy to read and use under all conditions. In other words: An pilot watch used to be an indispensable companion on board. As authentic replicas of historical Laco aviator watches from the 1940s the current models are characterised by their high precision combined with outstanding design. The main characteristics of a Laco pilot watch are, among other things, the iconic watch face, the distinctive onion-shaped crown, the closed leather strap and the surface finish of the casing. Robust aviator watches with distinctive marks that tell a story, are the "heirlooms" of Laco. The unique and intentional signs of wear on the pilot watches attest to their authenticity and an eventful history - and turns each "heirloom" into a high-quality one-of-a-kind item. In other words: a legend that our watchmakers build with devotion - and our customers wear with passion.
Different designs, always a unique character.
Considering its turbulent history, the pilot watch was specifically designed and built for the needs on board. The pilot watch was therefore characterised by its robustness, functionality and high readability: it was resistant to shock, vibration and pressure as well as easy and safe to use both day and night. Characteristics that nowadays are of great benefit also in everyday life. Whoever buys a Laco with the classic pilot watch design, can therefore count on their ease of use and good readability..
Die meisten Fliegeruhrenmodelle von Laco werden in drei verschiedenen Baumustertypen von Hand in Pforzheim gefertigt. Auf den ersten Blick kommen die Unterschiede der Fliegeruhrtypen A, B und C vor allem in der Aufteilung des Zifferblattes zum Tragen.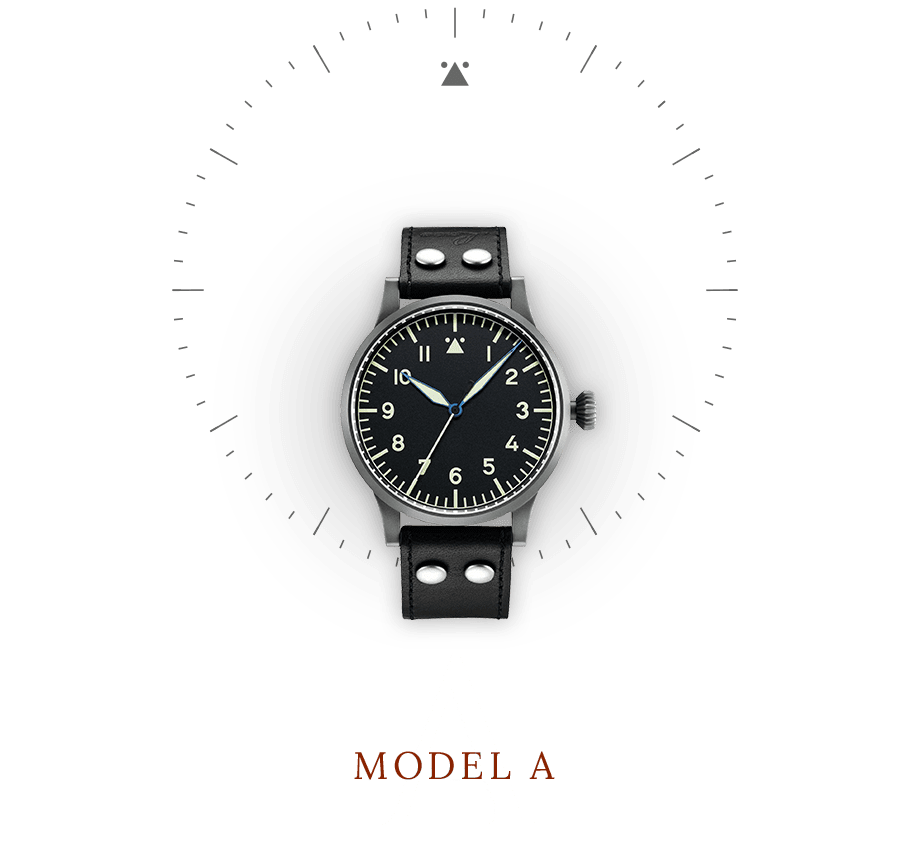 Pilot Watch Model A
The pilot watch Model A was created in the 1940s for aviators and is characterised by a simple design with numbered hours. The dial with a large hour circle indicates the numbers 1 to 11. For better readability the model A has a triangle with two points in place of the Arabic numeral "12". The triangle made sure that the wearer of the watch could see the hands at "12" at a glance, even with poor visibility and difficult flight conditions or under stress. These two points also make it easier to precisely set the watch in difficult visibility conditions.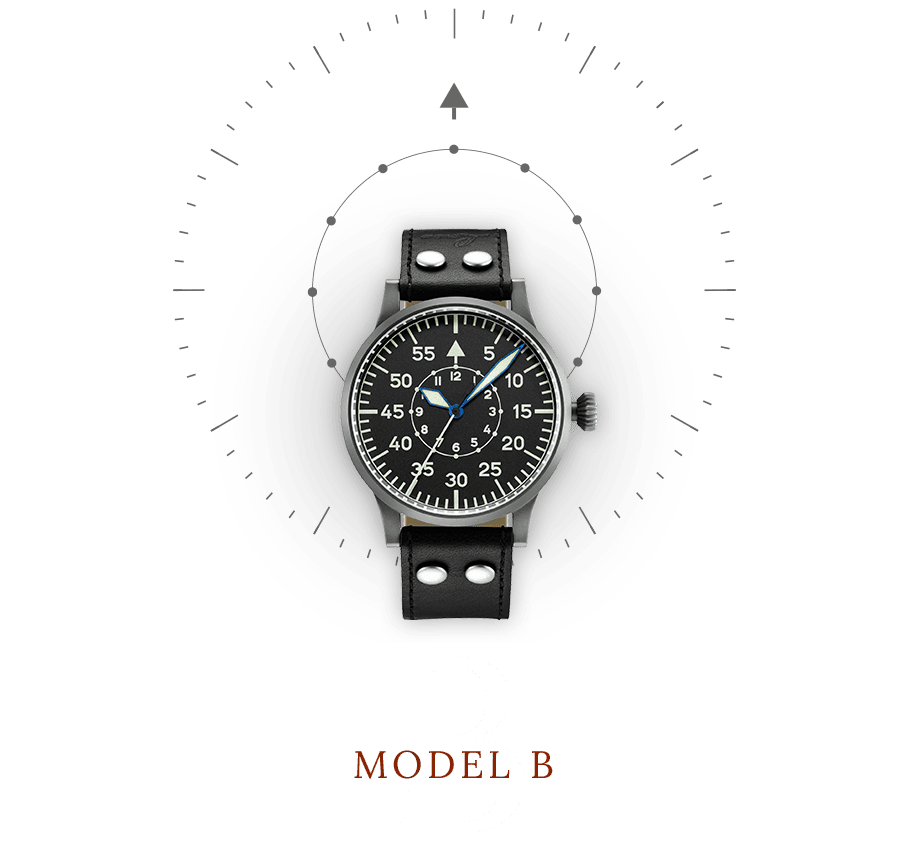 Pilot Watch Model B
Model B pilot watches made the work of early navigators easier. A characteristic of type B aviator watches is the large minute numbers in increments of 5 along the edge. The classic hour division of 1 to 12 is given in Arabic numerals, which are displayed in an additional inner ring. Military aviator watches generally had no manufacturing company logos. Quite simply, this was to prevent additional "useless" elements from affecting the readability and functionality of the watch. Besides the two classic A and B models, you can also acquire another watch type from us, which combines proven elements with additional practical components: the type C aviator watch.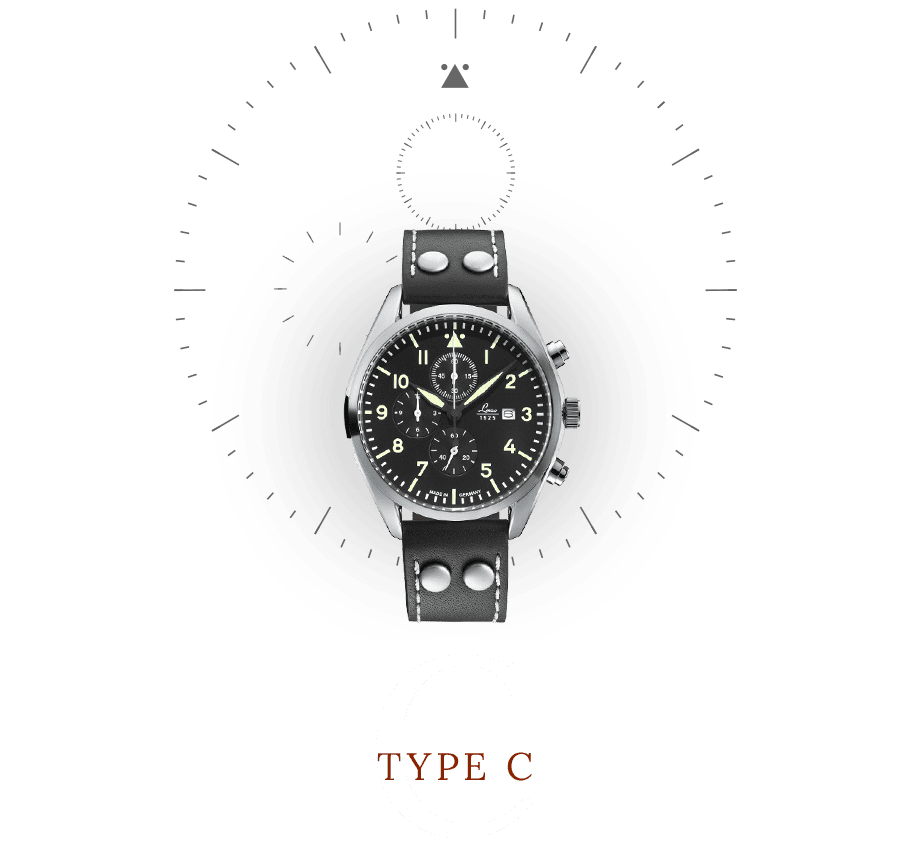 Pilot Watch Type C
The type C pilot watch combines the characteristics of model A with the special features of a chronograph. The dial displays the Arabic numerals 1 to 11 in a large hour circle, and the usual triangle instead of "12". Type C also has the additional functions of a chronograph, for example, stop seconds, separate, decentralised second hand, or day and date display. Regardless of model or type, the aviator watch has established itself as a popular watch type. It is often worn as a statement, rather than for functionality. As statement of the original made in Germany.
Model matrix


To be able to read all data of the model matrix completely, move within the matrix from one side of the table to the other.
Stainless steel case
Stainless steel case, black IP coating
Stainless steel case, metal band
Blaue Stunde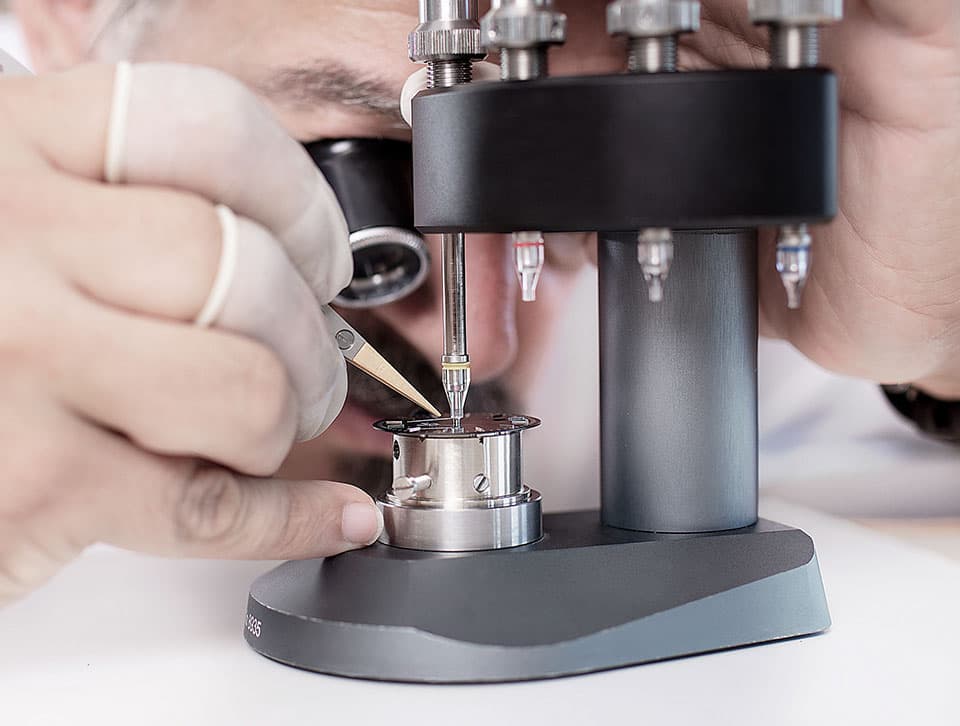 Quality over quantity: Laco watch manufacture.
A Laco is more than a watch. It is an expression of character. Because, no matter whether you wear a robust aviator watch, a precise chronograph or a timelessly elegant classic on your wrist: each Laco has a unique character, which is distinguished by the love of detail and passion, with which our watchmakers built it: with complex and sophisticated craftsmanship.
Learn more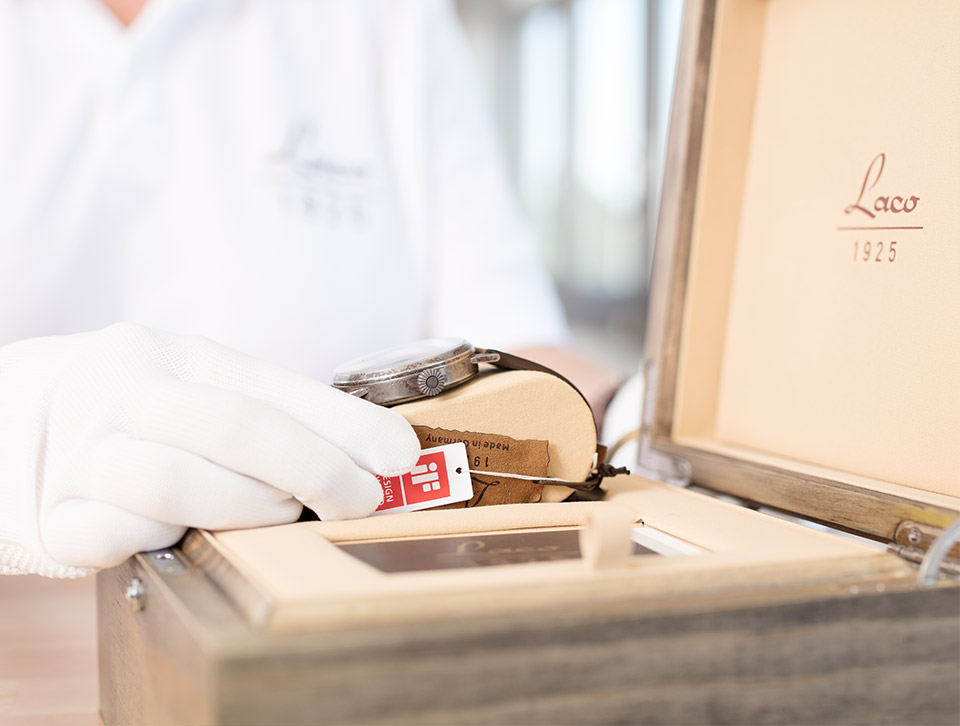 The only one who requires more from our service than our customers, is us.
A Laco is a statement. A statement for the original. Because every Laco watch sets the standards in its category and stands for high precision, high-quality manufacturing, and passion. A claim that can also be made when it comes to the quality of our service.
Learn more