Laco Pilot Watches – experience contemporary history
Our pilot watches represent highest quality, absolute reliability and a legendary history. In the 1940s, we were one of the only companies to receive permission to produce the indispensable timepieces. Since then, the unmistakable passion of our watchmakers has been present in every single one of our hand-made pilot watches. As an important instrument in the cockpit, our pilot watches fulfilled the highest demands even back then. Perfect readability in thunderstorms and fog, resistance to shocks and vibrations and easy handling at all times – we live each day with our passion for legends.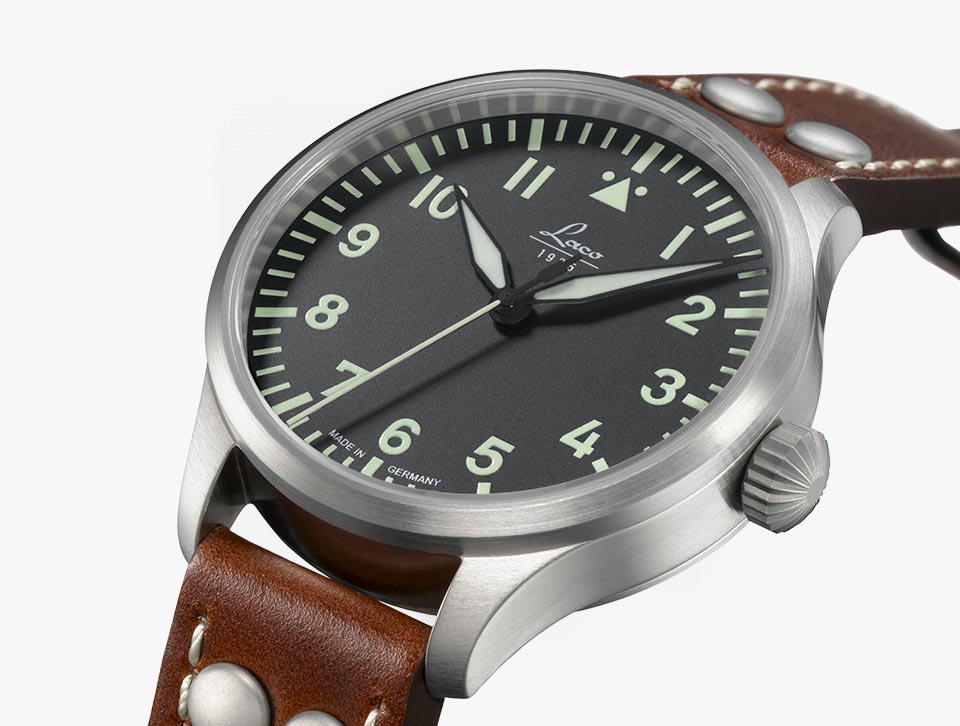 Laco pilot watch
Augsburg 39
The striking onion crown, closed leather strap and the satin stainless steel case of this classic model resemble our pilot watches from the 40s. To ensure that you can always rely on your Augsburg, the iconic Model A dial provides perfect readability even in difficult conditions. Precise, robust and absolutely trustworthy, this model is also part of our legendary history.
This model is also available in a 42 mm version and with free engraving.
Passion and Authenticity.
---
Every Laco is the result of our highest expectations.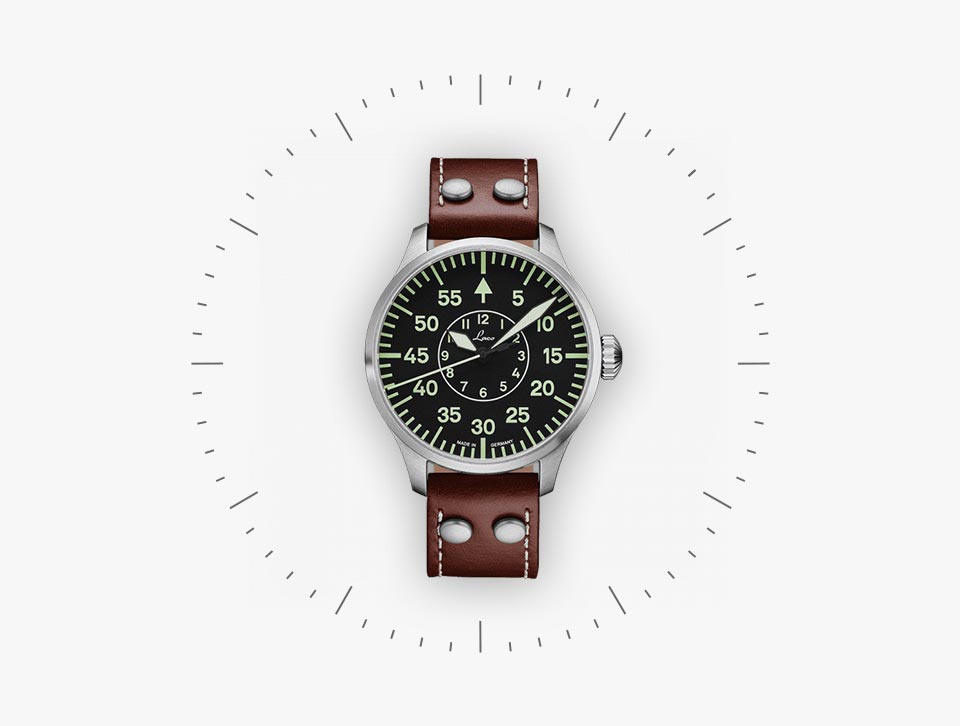 Laco pilot watch
Aachen 42
In the past, our authentic B-type pilot watch would have been essential to the work of navigators in the cockpit. Even today, this watch embodies freedom and passion for flying. Exact precision and flawless functionality were and still are important features of our Laco pilot watches and make them reliable companions. Feel like a legend every time you take a look at your watch.
This model is also available in the smaller 39 mm version.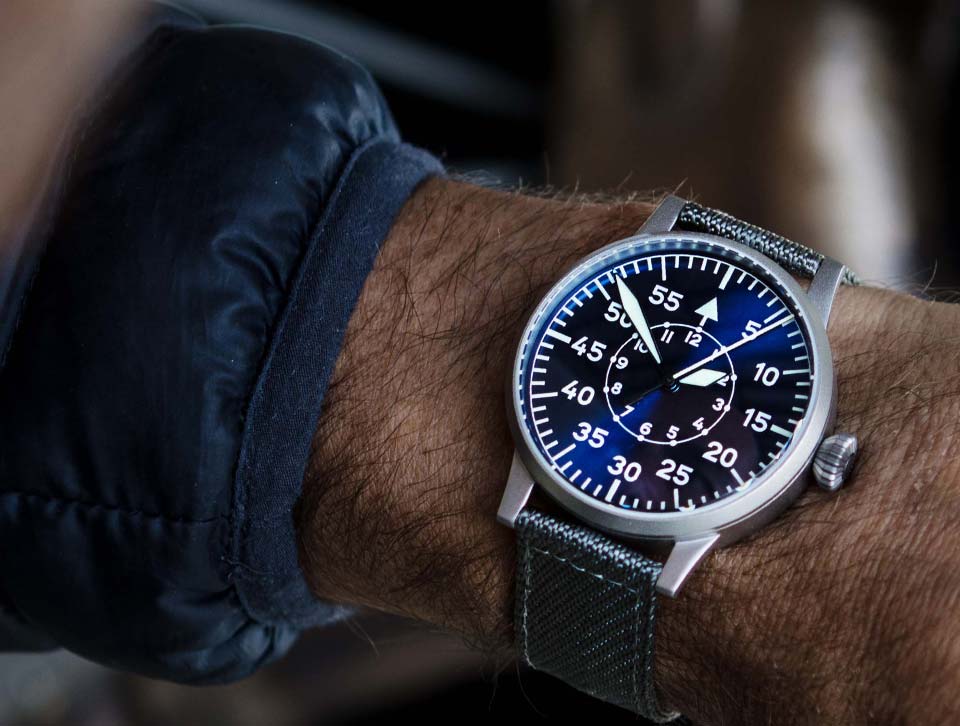 Laco Pilot watch
Paderborn Blaue STunde
It is after sunset, that the sky turns into a deep blue and the "blaue Stunde" strikes. Nowhere else can this magical moment be experienced as intensively as in the cockpit. Our model "Blaue Stunde" translates to "blue hour" and celebrates this natural phenomenon with a blue sun-brushed dial – protected by a double-vaulted, anti-reflective sapphire crystal.
If you wish, we can supply this watch with an upgrade to a movement of the quality level Top.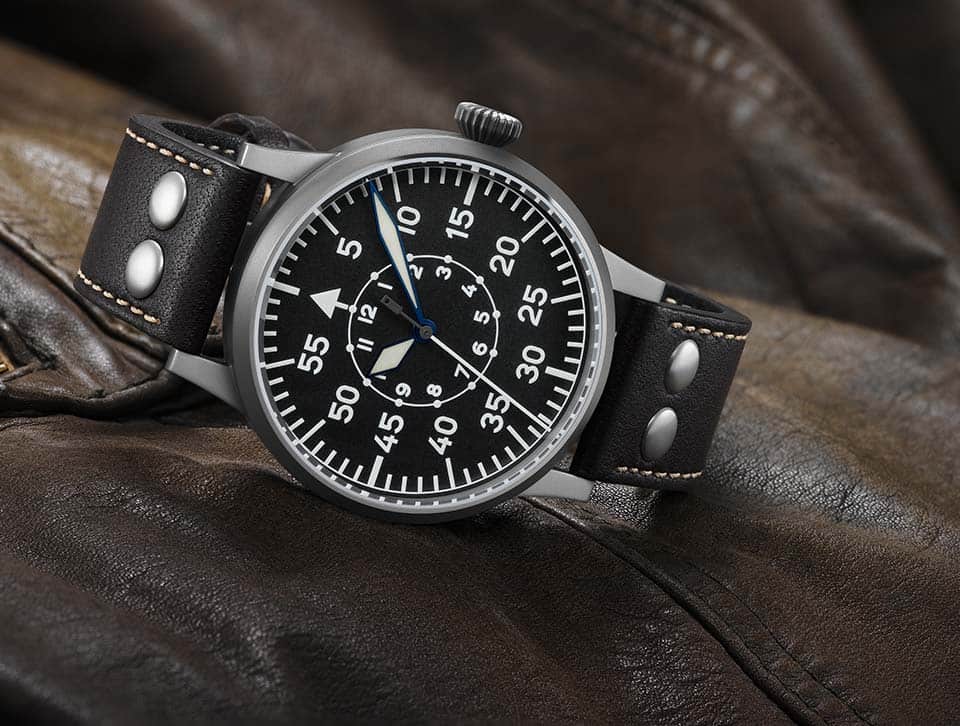 Laco Pilot watch
Friedrichshafen
Highest quality, distinctive design and reliable precision – our pilot watch Friedrichshafen is a timeless classic. On the Model B dial, thermally blued and fluorescent stainless steel hands provide an elegant eye-catcher and perfect readability even in the dark. On request, we can upgrade the Elaboré movement to a Top movement.
For a special touch, we can engrave your watch for free.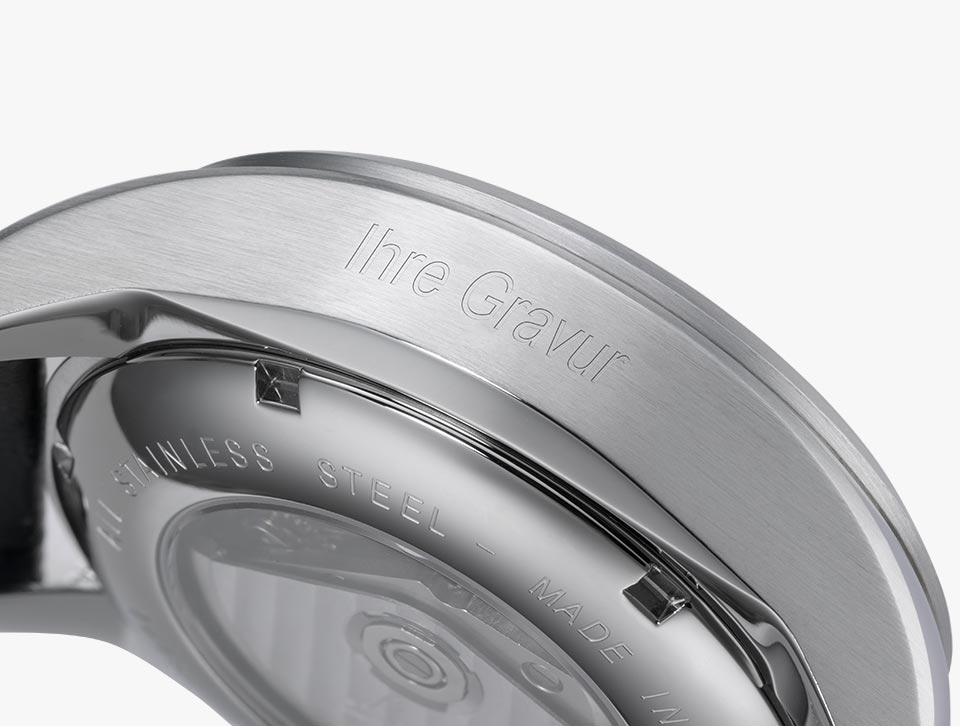 Free engraving - turn your watch into one of a kind
We offer free engravings for a variety of our watches. A few nice words, a special date or a name – with an engraving your watch becomes unique. Depending on the model we can engrave the back, the case or even the rotor. Explore your way to make a statement for craftsmanship and individuality. Especially in the age of mass production, an engraved Laco watch is a message of value.
WORLDWIDE
SHIPPING
MADE IN
GERMANY
COMPREHENSIVE SERVICE
24 MONTH
GUARANTEE