Dortmund Erbstück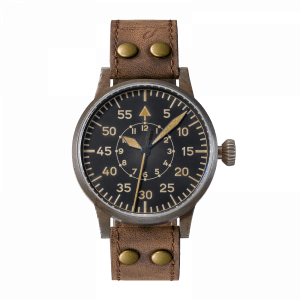 to the product
Pilot Watch Original
Dortmund Erbstück
45 mm handwinding
The used vintage leather makes every watch strap unique. Being a product of nature, it can present itself with color and structure variations.
product description
Article variations
Model matrix
product description
product description
Product.Nr. 861938
Inspired by the original 55 mm sized observation watches from the 1940s, this collection's models look as if they have been worn over several generations. The hand made "Erbstück" watch is a one of a kind. Traces of ageing give these timepieces a historic charm that usually can only be found at vintage models.

Laco has developed a unique method to achieve this special look, creating a natural patina on the watches. Scrapes, scratches, discolouration and wear and tear can be reproduced to appear as they do on old originals. All components - case, dial, hands or strap - are aged invidually and by hand, using a work-intensive procedure without mechanical aids, so the ageing looks absolutely authentic and none is alike. This gives the watches the appeal of an historic timepiece, making each one completely unique - as individual and distinctive as its owner!

We offer three different levels of aging:

• Level 1: The watch only has slight signs of aging, the watch case has no or only very small scratches or grooves.
• Level 2: The "standard" version has normal scratches and aging characteristics which can be seen on the pictures on our website. If you do not submit a level selection, you will receive this level.
• Level 3: The watch has strong signs of aging. The level 3 aging has the same features of level 2, but with broken out parts of the lumious material of the hands. Please note that the readability of the watch is reduced when choosing due to reduced luminous material.

The "Erbstück" watches are produced at level 2 by default. If you prefer a different level of aging, please give us a short notice in the comment field when submitting your order. If level 1 or 3 is selected the delivery time may take longer, because the components are made specifically according to your requests. Feel free to contact us to ask about the current delivery time for these options.

Made in Germany.
Movement:

hand winding movement Laco 210
basic movement Sellita SW 210

Case:

Stainless steel case, elaborately hand-finished in an antique look with lateral engraving FL23883 and engraved stainless steel back. Every case is absolutely unique. Domed and anti-reflective sapphire crystal, solid case back with engraving, Crown execution like original Beobachtungsuhr

Dial:

Execution according original Baumuster B, black mat with luminous indexes in Superluminova C3, like the case in antique look

Hands:

Thermally blued steel hands with Superluminova coating, elaborate hand-finishing ages each watch individually (partially cracked on request)

Strap:

Closed loop pilot's brown calf leather strap with rivets
The used vintage leather makes every watch strap unique. Being a product of nature, it can present itself with color and structure variations.

Box:

Black gift box, incl. cardboard box

diameter:

45,0 mm

height:

13,0 mm

lug width:

22,0 mm

lug to lug:

53,5 mm

waterproof:

up to 5 ATM

weight:

117,8 g (incl. strap)

Arm circumference:

16 - 23 cm
Article variations
Model matrix
Model matrix


To be able to read all data of the model matrix completely, move within the matrix from one side of the table to the other.
grey/black
Erbstück
Bronze
Blaue Stunde
luminous dial
Get inspired
Stylish accessories, reliable travel companions and much more - immerse yourself in the diverse world of Laco watches and let our customers inspire you. With our hashtag #laco1925 you too will become part of the Laco family!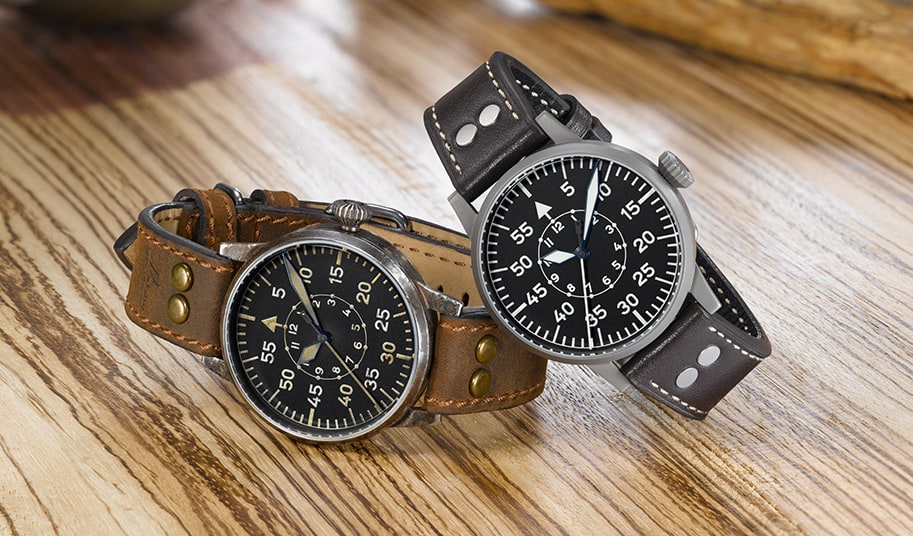 From passion to legend: The Pilot watch from Laco.
There are pilot watches. And then there is the pilot watch from Laco. As one of a few exclusive companies the workshop in Pforzheim can look back on a long tradition. Whereas in the 1940s a Laco was an indispensable tool in the cockpit, today it is an expression of freedom. With a Laco aviator watch you are not only wearing a precise and robust watch on your wrist, but also a piece of history.
Information about the movement
The standard movement in this model is a movement of the quality level elaboré.
This watch does not have a visible date window. Therefore, Laco disables the so-called "ghost position" of the crown (also known as phantom date) on these movements. This means that the watch has no unnecessary crown position, which is normally responsible for the date switching of the movement.
| | Elaboré | Top |
| --- | --- | --- |
| Shock protection | Incabloc | Incabloc |
| Balance wheel | Gilded nickel | Glycydur |
| Hairspring | Nivarox 2 | Nivarox 1 |
| Regulation | 3 positions | 5 positions |
| Ø gear precision over 24h | 0 to + 14 seconds/day | 0 to + 8 seconds/day |
| Jewels | polyrubin | red ruby |
For more information see our FAQ.
Information about the sapphire crystal
The sapphire crystal installed as standard in this model features an anti-reflective layer on the inside. On request, we can also supply this model with sapphire crystal that has been AR-coated on both sides. In this case both sides of the crystal will then have an anti-reflective layer. This can be added to your order under "Sapphire crystal".
Please note:
The outer anti-reflective layer may become scratched when wearing the watch.
This is considered normal wear and is therefore excluded from the warranty.
For more information see our FAQ.
Information about the crown
Please note:
Personalized products can neither be returned nor exchanged.
For more information see our FAQ.
Please note: The first engraving is free of charge, any further engraving is possible at a surcharge of 49€/57US$. Further engravings can be added to the cart via the provided text field in the article. Unfortunately, personalised products can be neither returned nor exchanged.
Add / Change
INFORMATION ABOUT THE ENGRAVING
Please note:
The first engraving is free of charge, a further engraving is possible for an extra charge of 49€/57US$. After placing your order you can cancel it within 48 h. After that, you no longer have the right of return, as the engraving will then be applied.
For more information see our FAQ.
Youtube Video
Wenn Sie das Youtube Video auf dieser Seite sehen möchten, werden personenbezogene Daten an den Betreiber von Youtube gesendet und Cookies durch den Betreiber gesetzt. Daher ist es möglich, dass der Anbieter Ihre Zugriffe speichert und Ihr Verhalten analysieren kann. Die Datenschutzerklärung von Youtube finden Sie unter:
https://policies.google.com/privacy
Allow Youtube